This year's ASHFEST is scheduled for
8/19/21
TICKETS AVAILABLE NOW!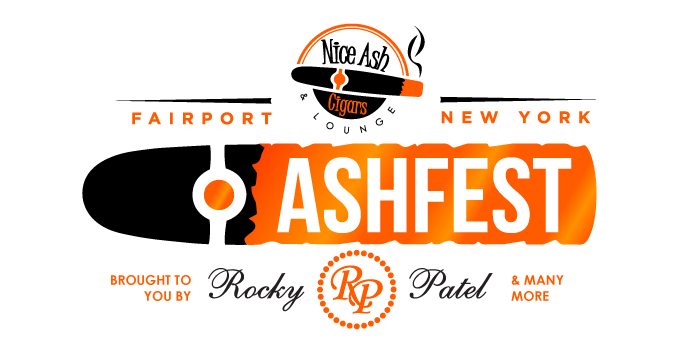 Nice Ash Cigars Presents
ASHFEST
Cigar Festival
8/19/21
Hosted at one of our Nice Ash Retail stores:
36 Jefferson Ave. Fairport, NY 14450

SPECIAL GUEST THIS YEAR!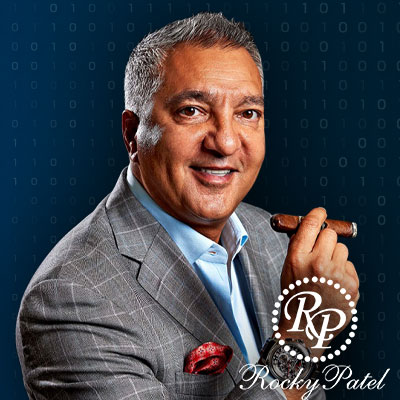 The one & only, ROCKY PATEL will be at AshFest to meet attendees, offer outstanding specials, take photos & sign boxes!

AshFest is a Cigar Festival with tons of great food, drinks, music and of course an ASH-load of cigars in support of Veteran's Outreach Center of Rochester! The BIGGEST vendors in the cigar industry will be in the house giving out 15 cigars to Aficionado ticket holders plus Swag Bags & More.

We'll have large tents set up for vendors & dining as we're having a big ole Pig Roast buffet for all attendees with beer, beverages & music to enjoy while smokin' your newly acquired cigar stash! Non cigar inclusive tickets available for friends, significant others, and anyone else 18+ for just $30 a ticket.

Are you a VIP? Get the premier ticket that includes: 20 cigars, exclusive access to the lounge, extra freebies, tasting, early access & more!

VENDORS & SPONSORS (thus far):

We're pleased to announce: Rocky Patel Cigars is our Name Sponsor for the Festival. With their support and the others below, we'll be able to raise even more for our Vets!

GOLD SPONSORS:
Hot Pig On Wheels
MONTAGE Wealth Management
Illusione Cigars
Altadis USA

SILVER SPONSORS:
Gregorio Cigars
Davidoff

BRONZE SPONSORS:
Fairpoint Wealth Partners
Foundation Cigars
Casdagli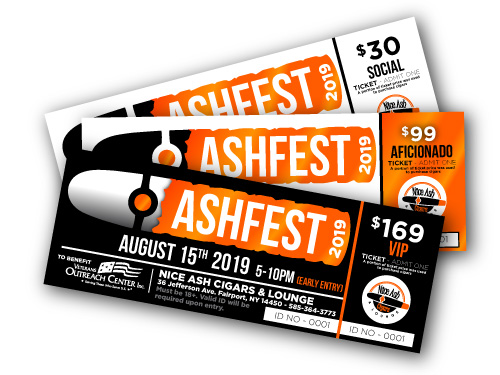 TICKETS AVAILABLE:

SOCIAL TICKET - $30
Includes:
Access to all Cigar Vendors & Cigar Showcase Areas
All out Pig Roast Dinner Buffet
2 Beer Tickets
Free Soda and Water

AFICIONADO TICKET - $109
Includes:
All out Pig Roast Dinner
4 Beer/Wine Tickets
15 PREMIUM Cigars Including one hand rolled by Gregorio on Site. (Local Aprox. Value $190)
Swag Bag
Commemorative Mug
Free Soda and Water


VIP - $179
The best ticket out there. Only 50 Available!

Includes:
One hour early entry
All out Pig Roast Dinner
6 Beer/Wine Tickets
20 PREMIUM Cigars Including one hand rolled by Gregorio on Site. (Local Aprox. Value $250)
Swag Bag
Commemorative V.I.P. T-Shirt
Commemorative Mug
V.I.P. Raffle Ticket for a Great Prize
Air Conditioned V.I.P. Lounge
Hors d'Oeuvres
Real Bathroom
Free Soda and Water

CLICK HERE To purchase tickets


PARTICIPATING COMPANIES:

We want to give you a taste of the companies we anticipate you will be receiving cigars from at AshFest. We promised you the biggest companies and biggest brands in the industry and we've delivered. At AshFest, Aficionado and VIP ticket holders will collect their cigars from the following companies:
*Based off previous years, subject to change
-Altadis (The company who makes: Montecristo, Romeo y Julieta, H. Upmann, & More)
-AJ Fernandez
-Alec Bradley
-Ashton/La Aroma de Cuba
-Crowned Heads
-Davidoff/Camacho/Avo
-Tatuaje/L'Atelier/Surrogates
-La Flor Dominicana
-Ted's Cigars
-Miami Cigars
-General (The company who makes: Macanudo, CAO, Cohiba, Partagas & More)
-Rocky Patel Premium Cigars
-Hand Rolled Cigars by Gregorio
-JC Newman/ Fuente
-Drew Estates (The company who makes: ACID, Liga Privada, Joyo de Nicaragua, Undercrown & More)
-Illusione
-Nat Sherman
-JM Dominican

-Sindicato
Other participants:
-Xikar
-RH Stayfresh Humidification
-Cigar Rights of America

ASHFEST's primary goal is to support Veteran's Outreach Inc. a remarkable organization that supports our local veterans who have served our great country.
Founded locally in 1973 by returning Vietnam Veterans, today's Veterans Outreach Center remains anchored in our community and offers a comprehensive portfolio of supportive services designed to meet the needs of veterans and their families. Through the generosity of our community, all of these programs and services are provided free of charge.
Help us raise as much as possible for this great charity or donate directly on their website!
Learn more here: veteransoutreachcenter.org


FULL DETAILS ABOUT THE FESTIVAL CAN BE FOUND AT:
NICEASHFEST.com



CLICK HERE To purchase tickets