Over the last 6 years, our best selling cigar brand has been limited to in-store retail purchases only. Now we're sharing them with all our online customers as well! Because they are hand rolled, coming from our flagship store in Western New York,
PRODUCTION IS EXTREMELY LIMITED
. We will only be able to release small quantities of these fine cigars at a time before the next batch will be aged and ready to be enjoyed.
Hand Rolled Cigars by

GREGORIO
FROM A PASSION FOR CIGARS, A THIRST FOR ADVENTURE & SKILLFUL HANDS…
GREGORIO WAS BORN
More than just a cigar roller, Gregorio is an American cigar lover who has cultivated the rare art of crafting premium cigars and is passionate about sharing the art with others.


ABOUT GREGORIO:
After finding his place in the cigar world with Nice Ash Cigars & Lounge, there was a hunger to learn more, see more and do more.
Traveling to Honduras he learned first hand the journey from seed to cigar. From the farms and fields, to the barns and factories he saw the long and delicate process of creating a premium cigar. Flying to Esteli, Nicaragua he was introduced to Evita who would become his mentor, guiding him through the masterful art.
Upon his return, he spared no time in continuing to practice and refine his skills to create exquisite hand rolled cigars. Now, Gregorio is one of only a few American born cigar rollers. He is honored to have the ability to share the beautiful art of cigar rolling, as well as his wonderful cigars with fellow cigar enthusiasts.

__________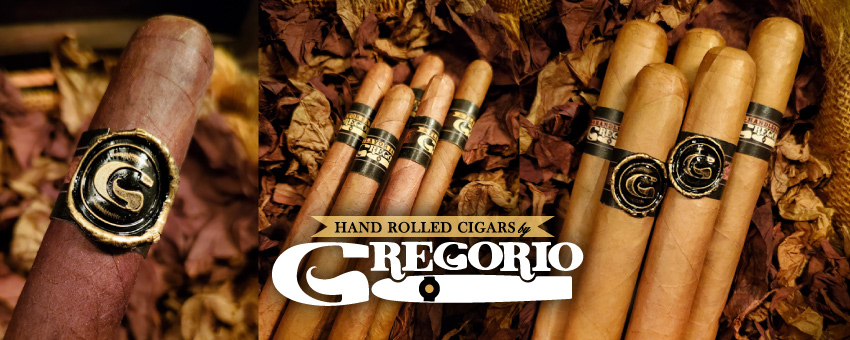 GREGORIO'S CIGAR LINES:
The HANDLEBAR
Wrapper: Ecuadorian Connecticut
Filler: Nicaraguan & Dominican
Flavor profile: This isn't your run-of-the-mill mild Connecticut cigars! The Handlebar is a mild to medium bodied, easy smoking gem with a nice profile of cream, fresh grain, hay, toasted nut, fresh baked bread and subtle woodsy vanilla notes. It's sure to please the most seasoned cigar smoker, and yet it's also the perfect option for those who only occasionally indulge in a cigar.
The IMPERIAL
Wrapper: Ecuadorian Cubano
Filler: Honduran & Nicaraguan
Flavor profile: The Imperial is medium bodied with great dark and earthy flavors. Full notes of dark chocolate, espresso, spice, caramel, dark fruit sweetness, rich natural tobacco and nuts can be found throughout. This one is equally suited to be paired with coffee in the morning or as an after dinner smoke with a dram of whiskey.
The FLAVOR SAVOR
Wrapper: Ecuadorian Connecticut
Flavor profile: A cigar designed for the aromatic cigar lover, the Flavor Savor is a sweet flavored cigar that is rolled in a petite vitola. If a light cigar with a sweet cap and rich vanilla, caramel and sweet cream flavors sounds good to you, you?ll love the Flavor Savor. The perfect cigar to enjoy alongside a cup of coffee, rich stout or as an after dinner, dessert smoke.
________
Learn More About Gregorio at
GregorioCigars.com
Follow Gregorio on Facebook and Instagram:
Gregorio Cigars will only be released in small batches. Be sure to subscribe to our email list to be notified of future releases. Thank you!