Nice Ash Blog!
04-19-2016

A Call to Action!

During this primary season we are seeing many candidate vying for both your attention and your vote on the national, state, and local levels, and as we get closer to November things are just going to intensify. Now is a great time to remind each and every one of these people, as well as officials currently holding office, that you do not approve of FDA oversight over premium tobacco.

It doesn't matter how frequently you enjoy cigars and it doesn't matter whether you have a 10-count humidor or you've retrofitted a walk-in closet to store thousands of precious smokes: the fight over if the FDA will regulate premium tobacco directly affects you and this wonderful hobby that we share. It certainly affects us, one of about 2,000 (mostly small business) premium tobacco retailers in the US. It affects both brand owners like Tatuaje's Pete Johnson and global companies like General Cigar (makers of CAO, Punch, Macanudo, and others). It affects an estimated 30,000 families in the Latin American countries where most of these amazing tobaccos are grown and the cigars you love are rolled.

To be blunt: if the FDA has their way and regulates premium tobacco as they see fit, our industry will be destroyed. That isn't "the sky is falling"-type talk; it's the truth. Hundreds of blends will disappear from your humidor. Hundreds of retailers will close their doors. Dozens of brands will shut down. All will happen seemingly overnight.

Use this opportunity to visit the Cigar Rights of America website. You do not need to be a member, but we strongly suggest that you support their efforts by becoming a dues-paying, card-carrying CRAer. Regardless, use their site to stay informed of the federal and state-level attacks on this industry. More importantly, use their resources to send a letter to the candidates saying that your vote can be earned if they support the incredible people who enjoy this hobby (YOU!) AND the people dedicated to this incredible industry.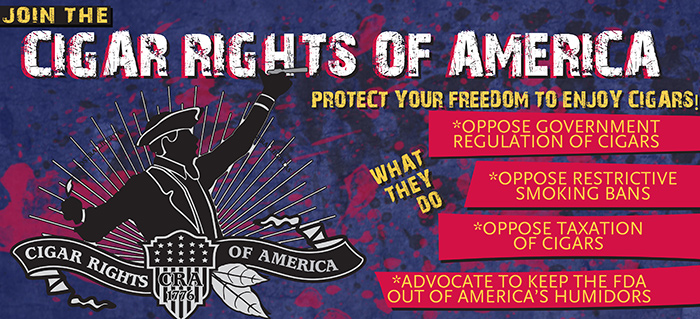 ---------------
04-07-2016

Introducing Economy Shipping!

Qualifying orders in the United States will now see the "Economy Shipping!" option in the dropdown box at checkout, a cheaper freight alternative for those of you looking to place small, lightweight orders!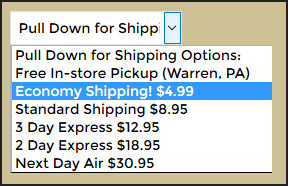 In general, use this rule of thumb when adding items to your cart if you'd like to take advantage: consider an order of 10 cigars (up to Churchill in size), an order of a a Xikar cutter or lighter and up to four cigars, an order of two tins of pipe tobacco, or an order of up to three tins of cigarillos. All should, based on the weight of the products, qualify! If the items in your cart are too heavy, the shipping option will not be available via the dropdown box.

Delivery is via USPS - there are no exceptions to the carrier - with transit time being only 1 to 3 Days. We hope this allows you to sample just a few cigars at a time without committing to a large purchase (and subsequently breaking the bank), or to replace that worn out accessory when you find a great deal on a new one!

Enjoy!
---------------
3-15-2016

NAC Rewards Program!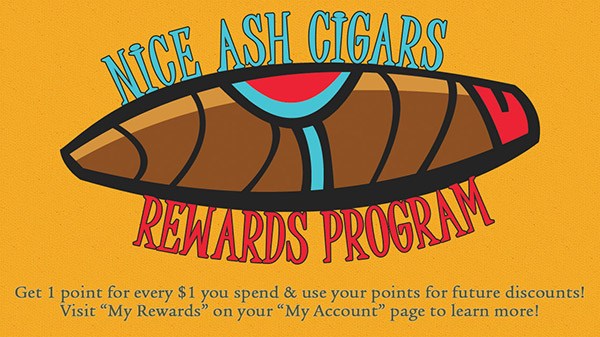 How's this for a Tuesday pick-me-up? Starting now, every time you place an order on our site (unfortunately phone orders are not eligible) you will earn points which can be applied towards a future discount!

Our rewards program is simple: every day earn 1 point for every $1 you spend. Once your order ships the points will automatically be added to your account and once you hit 500 points you can redeem them for a $50 discount on your next purchase (and to the next order after that if there is any credit remaining)!

That's not all: this allows us to announce days when you can earn double points on your purchases, or extra points for ordering specific products, so that you can really rack up the rewards!

Everyone loves savings and we've tried to make this as easy as possible! To be perfectly transparent, we did our best to factor the variance of profit margin between items that we can sell for the lowest possible price and items that have a required minimum price to reach our $1 spent = 1 point/500 points = $50 discount formula for this, and we certainly hope you find the additional savings helpful and but a small thank you from us for your loyalty!

Remember that you can check your available points, and redeem them, at the My Rewards page which is accessible through the My Account page of our site. One final note: due to how this software is written, orders placed using your credit do not qualify for point accrual. This is true regardless of whether the store credit amount covers all or part of the order total.
---------------
2-11-2016

We are FINALLY Nationwide!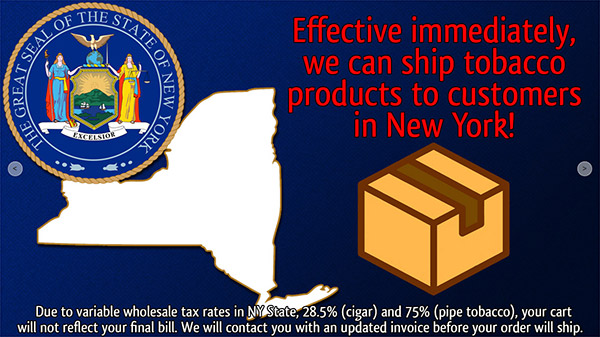 To those in New York: we want to be your tobacconist! That's right, effective immediately we can ship tobacco products to you! While our website will correctly apply sales tax to your order based on where you're receiving the shipment, it will not apply the state's tobacco tax - that number is variable based not only on the wholesale price of the product you're ordering but also whether the product is a full-sized cigar, cigarillo, or pipe tobacco.

Rest assured, once you place your order online we will review it, determine the correct tax amount, and then contact you so that we can arrange an additional payment. We realize that this added step may seem like an inconvenience but we're going to be blunt and honest with you: some of our competitors have their websites set up to charge you an inflated flat tax on your entire purchase, and trying to sneak an additional profit into their pockets under the guise of taxes just doesn't fly with us! We'd rather take this extra step to charge you the exact tax amount owed and ensure that you're receiving the best value for your dollar!
---------------
10-29-2015

Welcome to the new niceashcigars.com!

We certainly hope you like our new look. We've worked hard to not only give the site a clean and updated design, but we've also implemented a host of new features that were unavailable in the site's previous form. This is the Nice Ash you deserve!

When you first login to your account, please make sure that your billing address, shipping address, and other contact information, is current. While we don't anticipate any problems, it's possible that certain data may have become corrupted when importing it from the old site, or it may have been out of date to begin with. We appreciate you taking a moment to verify this with us. Really, we do!

So, how do you login?





You can always find the login to your account in the lower menu of the site at the bottom of every page. If you had an account at the previous version of our site, your login (email address) and password is the same. If you haven't visited us in a while and you've forgotten your personal login info, please contact us! Once logged in you can click on the MY ACCOUNT link just above the login and all of your personal information will be at your fingertips! From that menu you will also be able to review past orders (that is, orders placed with this new website, not orders placed on the old site or via the phone), add or remove items from your wishlist, and even look over any product reviews you have written.

While we're down here, it's worth mentioning that you can also review our company policies and website terms using the categories under the COMPANY header, you can peruse our Frequently Asked Questions (FAQ), shipping policies, and initiate a return under the CUSTOMERS header, and you can get social with us using the links under the CONNECT header!

Okay, so you're logged in and you've verified your contact info (thanks!), and now you want to order something. We don't blame you!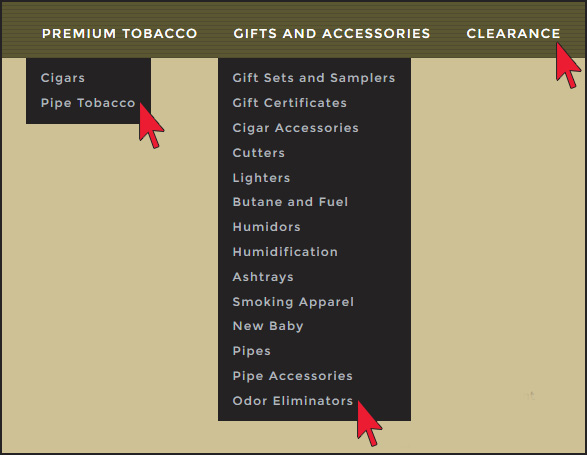 Simply move your cursor over any of the headings at the upper menu of the site to reveal further subcategories that can be explored. Every single item on the old site has been brought over, so rest assured, your favorites are still here! But what if you can't find something?





At the top right of the site is a magnifying glass which expands to a search window once your cursor hovers over it. Next to that is a shopping cart that will show you how many items you currently have in your cart, and if clicked on it will take you to an itemized list of those items.

Moving thousands of products over to this new platform, making sure each of those products had an updated product photo, and making sure that everything found its way into the proper categories, was a big challenge. We're pretty sure that the fine-toothed comb we used caught any and all bugs, but we're human and we may have overlooked something. If you notice that your favorite product is missing, or if it's somewhere it shouldn't be, you can give us a heads up by emailing us at customer.service@niceashcigars.com or calling us at (877) NICE-ASH. We certainly appreciate you notifying us if we did let something slip through the cracks!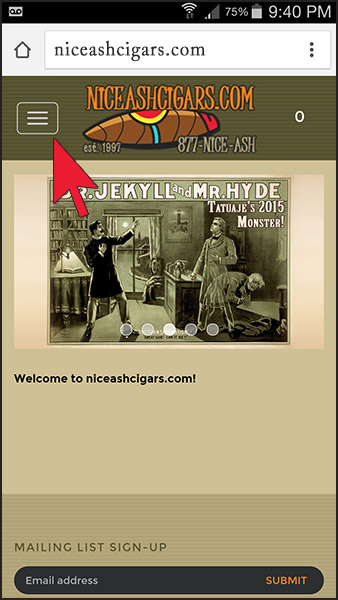 What? Yes! We now also have a fully-integrated mobile site for browsing on the go! It works the same as the main site but the upper menu is pushed over to the top left corner (where the arrow is in the pic above). Your login and other important links are still at the bottom, you'll just need to scroll down with your finger to get to them. Hopefully this allows you easier access when you're out-and-about and you get one of our emails about a limited item whose stock may not last until you can get to a desktop.

Now... Not all changes are easy to swallow, though. When FedEx recently announced that they would no longer ship tobacco products there was less incentive for other carriers to maintain our reasonable rates. Due to this, some of our shipping policies have had to change.

Going forward, we now offer the following shipping options...

STANDARD (USPS Priority or UPS Ground, our choice)
Under $100:
$8.95
$100-149.99:
$7.95
$150 and up:
FREE

EXPRESS
Under $100:
Next Day $30.95, 2 Day $18.95, 3 Day $12.95
$100-199.99:
Next Day $35.95, 2 Day $24.95, 3 Day $16.95
$200and up:
Next Day $40.95, 2 Day $30.95, 3 Day $24.95

ALASKA/HAWAII
Under $100:
2 Day $30.95, Priority $12.95
$100-199.99:
2 Day $35.95, Priority $18.95
$200 and up:
2 Day $40.95, Priority $25.95

In addition, all International shipments will be charged a Shipping Hold of $29.95. This way, when we weigh your package and determine an actual shipping cost, you will already be close to the final overall price for your order when it is placed. Obviously we will initiate an instant refund if you have overpaid, and as we have done in the past, if there are further charges we will contact you to pay the difference.

Again, if you run into any issues we are more than welcomed to speak to you over the phone at (877) NICE-ASH, and you can always reach us by emailing customer.service@niceashcigars.com. Our staff of Certified Retail Tobacconists are here to help you!

As always, thank you for the continued support. You guys are the best! And never forget that Nothin' Beats A Nice Ash!